The DVD/Blu-Ray industry is in trouble, but they're not doing themselves any favours. Downloading or streaming a film legally or illegally is way to easy now. So the purveyors of physical discs have to entice us with other things like extra features or coming in packaging that looks cool.
Kick-ass packaging is something that particularly appeals to horror fans, maybe we're nostalgic about the 80's/90's video shop, sneaking to the horror section looking at the pulpy cover art for films we were to young to watch. For me House comes to mind. What an intriguing cover.

Sometimes when you think they're getting it right again they limit it to only one region. For example, North American audiences got this cover for House of the Devil DVD/Blu-Ray (and amazingly VHS!).

I love this image, even splashed out and bought the poster, imagine the disappointment when my preordered disc came looking like, this…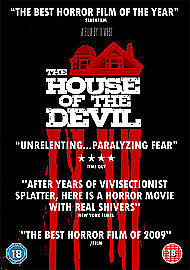 Now, in fairness this is actually still quite a stylish image, but when HOTD first came out, it received so much attention regarding its old-school, pulpy poster design, why change it for the UK/Ireland release?
Then the same thing happened with Ti West's other film, The Innkeepers.
North American's got this beauty.

UK and Ireland got this tacky crap. Which very much mis-sells the tone of the film.

It's within this nightmare of first world problems that it's a relief that we have Arrow Video. A UK based DVD/Blu-Ray distribution company that seems to be run by like-minded people. People who loved looking at the VHS cover art in the horror section when they were kids.So their discs come in boxes that look cool, some even have little windows, and several cards with alternative cover art, including the original release posters or newly commissioned pieces,  so that you can slide your. favourite cover in there… meaning I lie awake at night wondering if my selected cover for George A. Romero's Martin really sells the film… it does, they all do.
See below for some of my favourites and buy your own here, support the guys who do it right and others may fall into line. Believe me, these things look great on your shelf… the films are pretty good too.